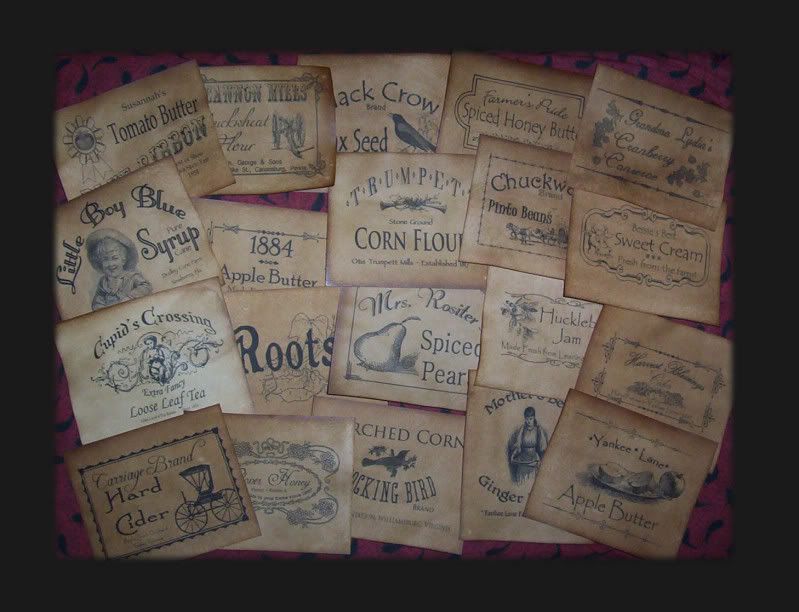 All of these labels have something to do with food or a food product.
In this set you will get one each of the following labels.
Blue Ribbon Tomato Butter, Cannon Mills Buckwheat Flour, Black Crow Flax Seed, Farmers Pride Spiced Honey Butter, Grandma Lydia's Cranberry Conserve,
Little Boy Blue Syrup, 1884 Apple Butter, Trumpett Corn Flour, Chuckwagon Pinto Beans, Bessies Sweet Cream,
Cupids Crossing Loose Leaf Tea, Roots, Mrs. Rossiters Spiced Pears, Huckleberry Jam, Harvest Blessings Cider,
Carriage Brand Hard Cider, Clover Honey, Mocking Bird Brand Parched Corn, Mothers Best Ginger Biskets, and Yankee Lane Apple Butter.



Each label is about 5 inches by 4 inches. Some can be trimmed smaller if needed.  They are also available as a wallet photo sized set.
These are not stickers.
As with all of my labels, they can be glued or double back taped to jars, boxes, hangtags, or whatever your imagination comes up with.
Shipping is included in the price listed.
International shipping please add $1.
$11.50 per set of 20 FULL Sized Labels.
$9.50 per set of 20 WALLET Sized Labels.