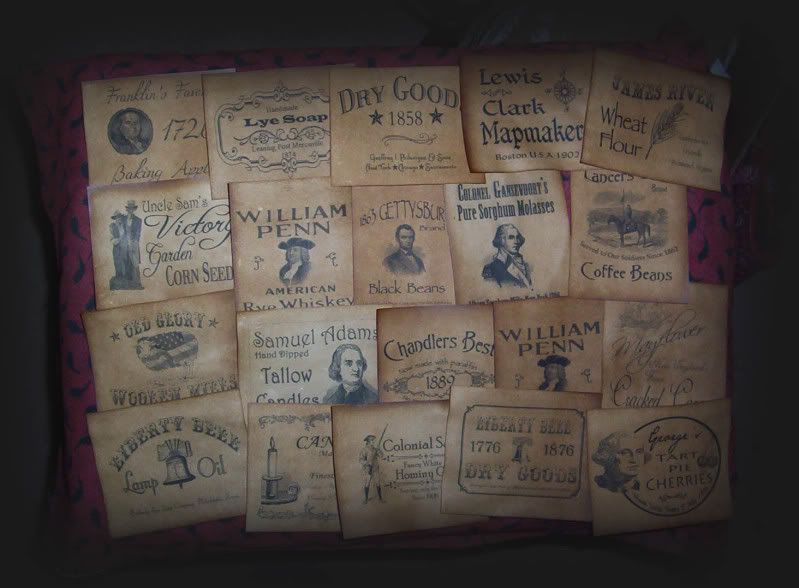 These are labels that I have designed myself, printed and aged.
Each one has some sort of historical notion to it.  Some are based on people in American History, some on places, some on dates prior to 1900.

 You will receive one each of the following 20 labels.
Franklin's Favorite 1726 Baking Apples, Handmade Lye Soap, Dry Goods 1858, Lewis & Clark Mapmakers,  James River Wheat Flour
Uncle Sam's Victory Garden Corn Seed, William Penn Rye Whiskey, Gettysburg Black Beans, Colonel Gansevhoort Sorghum Molasses, Lancers Union Coffee Beans
 Old Glory Woolen Mills, Sam Adams Tallow Candles, Chandlers Colonial Candles, McClellan's Hardtack Biskets (not pictured),  Mayflower Cracked Corn
Liberty Bell Lamp Oil, Nathan Hale Candles, Colonial Sam Hominy Grits, Liberty Bell Dry Goods, George's Tart Pie Cherries


Each label is about 5 inches wide and 4 inches high (or 4" wide x 5" tall). Some can be trimmed smaller if needed. 
Also available in a wallet photo sized set.
These are not stickers.
As with all of my labels, they can be glued or double back taped to jars, boxes, hangtags, or whatever your imagination comes up with.
$11.50 per set of 20 Ready to Use, Full Sized Labels
Shipping is included in the price listed.
International shipping please add $1.